Update 08/6/20
We are open again and following our published fixture list.
Important! We are requesting shooters not to arrive before 09.45. This is to allow our staff time to prepare the shooting ground for your safety and facilitate access to clays and other items stored in the building. Should you inadvertently arrive a few minutes early, please stay in your vehicle until 09.45.
We are implementing some new additional temporary rules which will allow us to get you shooting again. Please observe these new rules, they are there to keep everyone safe and to keep the shoot open.
We do apologise if the measures we are taking seem a little harsh, however, as we are sure you will appreciate, these are unusual times. It is our intention to lift any or all of these restrictions as and when it is fully safe to do so. We will be closely monitoring all further advice on shooting and would advise that you check the website regularly for any changes.
If you have any symptoms of any illness or are just feeling a little under the weather, we would respectfully ask that you do not come to the shoot.
In addition, those who fall into the shielding category are advised not to come to the shoot, however this is entirely at your own discretion.
Please maintain the 2-metre social distancing at all times and avoid forming groups.
Please limit shooting group sizes to a maximum of 2 people. (4 if from the same household)
Please help us to help you enjoy your sport by adhering to these temporary restrictions.
What's happening?:-
We will be open to all full club members with shotgun certificates. Unfortunately, at the moment we cannot cater for anyone who needs to be supervised or accompanied. We will also be open to non-members who hold a current shotgun certificate and who can prove they have valid insurance cover. We will need to see both of these at the booking in point. Any person without both of these will not be allowed to shoot and will be asked to leave the ground.
What we can't do:-
At the present time we will not be able to accept any visitors as follows.
Those who do not have a shotgun certificate.
Those who do not have their own shooting insurance (members are insured through the club).
Those who do not have their own gun (we would actively discourage sharing of a gun unless it is within a household group).
Those who are not going to be shooting (No spectators, guests or family members please).
In addition:-
We will not be offering the Have-a-Go scheme.
We will not be offering any corporate events.
We will not be carrying out any one to one tuition or tuition of any nature.
We will not be hiring out club guns.
Members and non-members are not permitted to carry out any instruction/tuition.
No one other than staff will be permitted inside the building, other than the entrance part where you can book in and place food orders.
So, how it works:-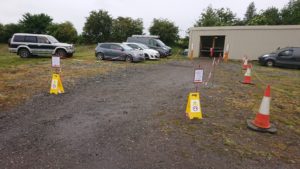 Firstly, there will be a new way of booking in. We will have two queues outside of the building, which will have 2-metre markers.
The left queue is for entry and cartridges etc and the right is for refreshments.
Every person wishing to shoot must book in themselves. We will not be accepting one person making multiple bookings.
Every non-member must produce their own proof of insurance.
Please use the sanitiser before entering the building.
Please only enter the front of the building when you are called forward, once you have your requirements please leave via the central route.
Please do not place personal belongings on the tables when ordering or paying for items. We will have to clean the table before the next person can be served.
We will call out food orders as they become available. You may return up the central route to collect food orders, but only if no one else is coming out. Please try to maintain the 2-metre distancing wherever possible at all times.
We will have cartridges for sale and items from the club shop, these will be issued on request, unfortunately we cannot allow browsing or handling of goods.
In the event of rain please do not clog up the entrance to the building by sheltering there. Please go back to your vehicle if you wish to shelter.
On the shooting ground:-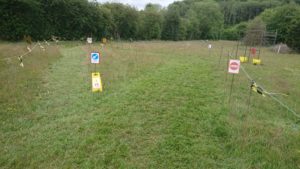 We are operating a one way system, this will be clearly marked and signed.
Again, please observe the 2-metre distancing. We are aware that many of you will be seeing people that you haven't chatted to in some time, but we must ask you to keep your distance.
We will have pins set at 2-metre intervals for each stand. Trap release buttons will be fixed at a distance of 2-metres from the cages, please do not try to move these.
Members of staff on the ground will periodically sanitise the release buttons. They will also be carrying hand sanitizer for those who wish to use it.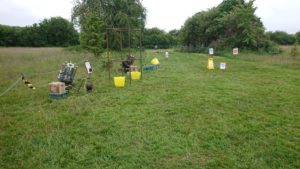 Please respect the distancing around our staff too. Do not approach nearer than 2-metres, if you wish to use the sanitiser, let them know and they will approach you, but only as far as is needed.
If we all make the effort to stay safe then we should be able to continue enjoying our sport. It is up to each and every one of us to act responsibly and respectfully.
Clearly, we have no idea how long these measures will have to continue, but they are there for your safety in these trying times.
Please bear with us, we are doing the best we can and may need to alter some of these provisions as we see what works best.
Rest assured; we have your best interests at heart.
Please feel free to contact us if you are unsure of anything with respect to the temporary rules.
We look forward to seeing you soon.