We are taking bookings for the Have-A-Go packages
Our Have-A-Go scheme is specifically designed for those who have always fancied trying clay shooting, but have never done so before, or may have done but some time ago. This scheme is designed for individuals or small groups of up to 5 people and only operates on dates published in our fixture list.
These packages are very popular and we have limited spaces. Those interested in this scheme should e-mail us for further information and availability. We work on a first come first served basis and can only hold unsecured requested dates for 3 days. A non-refundable deposit of £10 per person will secure your booking. Unfortunately we cannot offer the Have-a-Go to walk-ins, it is for pre booking only.
These packages are also suitable for those who would like further tuition or feel the need for a refresher session.
Each person taking part will be required to complete a Section 21 form, details of which are at the bottom of this page.
Please see the Price List for costs of our packages.
So what is Have-A-Go?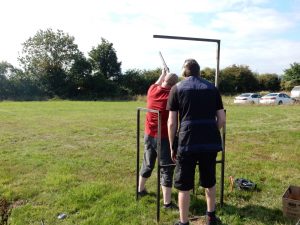 This is where the complete novice can come along and try our sport.
With one to one tuition, this is the ideal way to get a taste of clay shooting.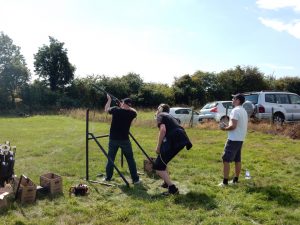 This can be offered to individuals and small groups of up to five people. Please contact us if this may be of interest to you.
We will provide you with everything you need to try this exciting sport. Initially there will be a safety briefing and you will be required to complete some paperwork for insurance purposes. We must also ask that each person wishing to shoot must complete a Section 21 statement form. (Details of Section 21 can be found below)
Following this, you will be guided at all times during your visit by one of our experienced team. We are sure you will have an enjoyable time with us and have something to tell your friends about!
Please note, on the grounds of safety, any person who is, or is suspected of being under the influence of drink, drugs or other substances will not be allowed to shoot or handle firearms.
Prohibited Persons
What makes me prohibited from possessing a firearm?
Section 21 of the Firearms Act 1968 prohibits a person from possession of any type of firearm if they have been given a custodial sentence when convicted of a criminal offence or have received a suspended sentence.
If you have received a custodial sentence of 3 months or more, but less that 3 years, then you are prohibited for a period of 5 years from the date you are released.
If you have received a custodial sentence of 3 years or more, then you are prohibited from possessing firearms for life.
If you been sentenced to 3 months imprisonment or more and the sentence is suspended, then you are prohibited for a period of 5 years commencing 2 days after the date of the sentence.
The prohibition may be lifted on application to the Crown Court, for advice please consult a solicitor.
If you have any concerns about eligibility to own or use a firearm, or require advice about legal issues surrounding the possession and use of firearms, ammunition or explosives, contact West Yorkshire Police Firearms Licensing Department on 01924 292310
Want something different as a gift for someone?
We offer the Have-A-Go package by way of a gift voucher. You can really make someone's day go with a bang!
Please e-mail for booking information, the address is at the top of the page.
E&OE